The 6 main types of garage doors
Pacific Gates Inc Garage Doors, Automatic Driveway Gates, and More
The 6 main types of garage doors
---
While it's often overlooked, your garage door is an essential element of your home's curb appeal. This is no surprise, especially when you consider that front facing garages are typically the first thing to be noticed by people driving by your property or guests pulling into your driveway. Its effect on the overall look of your home's exterior is only amplified if you have an attached garage, although a free-standing building will have no less of an impact.
Choosing the right garage door can be the difference between a cohesive, aesthetically and architecturally pleasing house and a mismatched mess. If you're considering replacing your garage door or if you're building a new garage you need to be careful when choosing the garage door that is best suited to your property. You will need to choose the material, color, finish and other details but first, you need to choose a type. These are the 4 main types of garage doors.
1. Sectional
The sectional garage door is constructed of several panel sections connected with hinges. Each panel has wheels along its edges which roll along a vertical track on both sides of the door's opening as you open or close the garage door. Each panel's hinges bend over a curved portion of the track which allows the door to be in line with the walls when the door is closed and to become parallel to the ceiling when it's open. A sectional garage door is usually made from steel and its look can be customized with different textures, colors, hardware and window inserts. It's a low maintenance gate that comes in both insulated and uninsulated models.
2. Roll-Up
Roll-up garage doors are a simple design that is perfect for areas with limited ceiling space and they're more commonly found in commercial buildings rather than residential ones. A roll-up door is made of several sections around 2-3 inches wide that roll around a drum above the garage door opening. They're also known as coiling doors and they're designed and built to withstand heavy use. The high-performance units can be with or without springs or they can be enclosed which prevents damage due to rust, freezing or corrosion. Their heavy-duty nature means that roll-up garage doors often have a higher upfront cost than sectional doors but they're also much more long-lasting.
3. Slide to the Side
Slide to the side garage doors are one of the first garage door types and they're most commonly used for garages with small headspaces. This type of garage door works by opening to one side and bending so that the door sits parallel to the wall. Their trolleys are flexible so that any slight slopes in the garage floor or ceiling are not an issue. They have a built-in motor that allows automated operation which means there is no need to an operator to be mounted to the ceiling. In addition, they do not require balancing springs.
4. Side-Hinged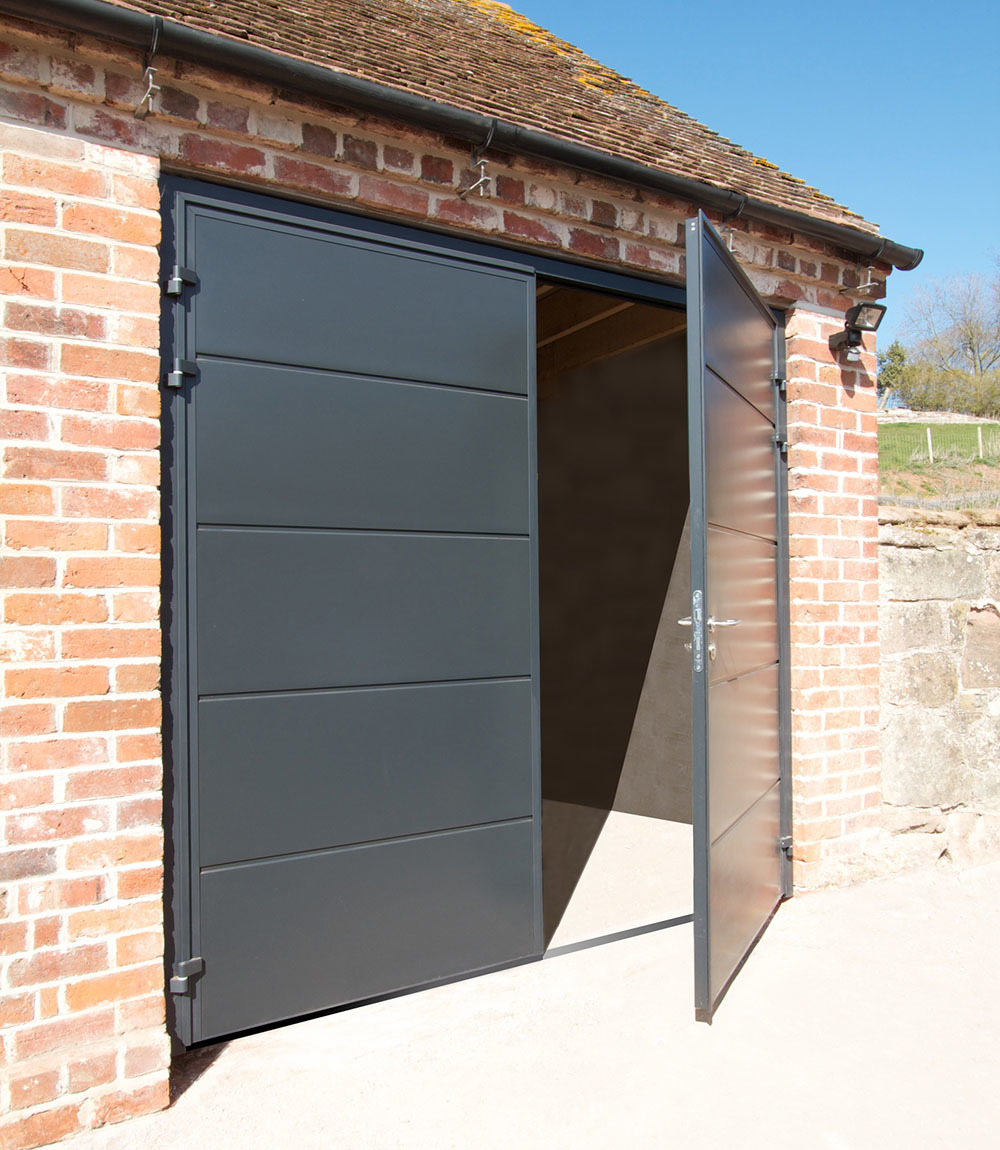 Side-hinged garage doors are an old-fashioned design which features a hinged frame on one side of the door opening which allows the door to swing open and closed. Side-hinged doors are usually made of wood and they resemble the look of large barn doors. However, side-hinged steel doors are becoming more and more popular and there are many different designs available commercially. This type of door can be fitted into an existing opening or they can be purchased in pre-hung steel frames. Additionally, side-hinged doors can be automated with the use of special conversion arms.
Call us at 1-866-750-7777 or contact us to find out more about our services.